By Donna Levin
California novelist and author of California Street (Simon & Schuster)
Friday, October 15th, 2010
You don't have to live in San Francisco, or another major urban center, to thrive as a writer. Anywhere in California will do just fine, thank you.
We all have the image of the writer working alone in the garret room with the slanting roof, maybe a window like the one in the women's apartment in Friends. But if you are a writer you know that while the "real" work must be accomplished alone, one cannot survive long emotionally, nor make the contacts necessary for ultimate success, without a community of fellow writers for emotional support, feedback on technique, and – what everyone wants most – referrals.
As in so many areas, the Internet has arisen to fill many of the gaps created by physical isolation. In the past decade especially, I've seen an explosion of online writing communities and virtual classes that rival some MFA programs (though one must choose among them carefully).
But as much as I "heart" the Internet, there is not yet any substitute for three-dimensional human contact in real time.
As it happens, in the past few weeks I've made two trips to Santa Rosa: once to address Redwood Writers, the Santa Rosa branch of the California Writers' Club, and once to meet 'n' greet at the Sonoma County Book Festival.
I put the two dates on my calendar on separate occasions, as the two invitations came independently from one another. But although I do believe in coincidences, I don't think this was one. Little Santa Rosa, known for being part of the wine country and as the setting for Alfred Hitchcock's Shadow of a Doubt  is also the center of a thriving literary community.
The California Writers Club was founded in 1909 (and so just celebrated its centennial) and currently has 18 branches throughout the state. Over the years I've visited about half a dozen. The chapters join forces for conferences and other activities but function independently for the most part.
Linda McCabe, the recent past president of Redwood Writers who extended the speaking invitation to me, says, "Interacting with other writers allows for a support network for improving my craft… as well as inspiring me to stop talking and actually perform the act of writing. … I feel fortunate to live in an area with such a vibrant and generous literary community."
Besides its monthly meetings (which meetings play host to a speaker in the writing or publishing field), the club sponsors frequent panel discussions, contests, seminars, and even, this past June, an "Agents Day," where both members and the public could have five minute conferences with a variety of literary agents face-to-face. (Which meetings give writers about a zillion times higher a success rate for those writers who submit query letters "over the transom.") Redwood Writers also publishes an annual anthology of its members' work.
Just three of many published Redwood authors are Persia Woolley, whose popular Guinevere trilogy is about to be reprinted by Sourcebooks, Shelly Singer, author of thirteen mysteries, and Molly Dwyer, award-winning author of Requiem for the Author of Frankenstein.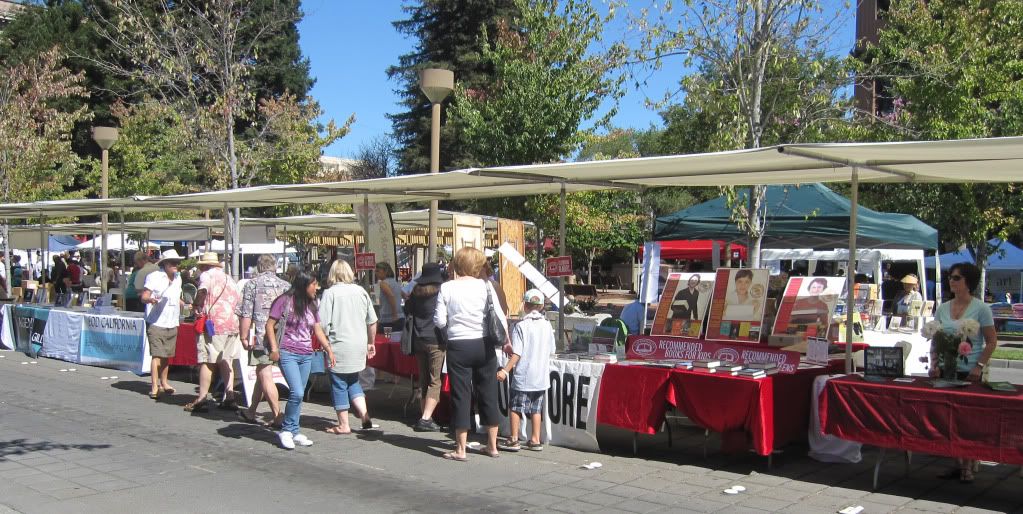 Redwood Writers was a strong presence at the Book Festival, held in downtown Santa Rosa, where club members held readings and sold books. I attended the Festival for the second time with my friend, Lady of the Light author Donna Gillespie, so we were The Donnas in a sprawling land of music, poetry, food and books, books, books. It was hot, as in 95 degrees in the shade hot, but although I overheard someone complain that it was crowded, it sure wasn't crowded by my San Francisco, festival-in-Golden-Gate-Park standards, as in "OMG, did they just tear down the Berlin Wall again?" Imagine this: There was inexpensive parking nearby and no lines for anything, be it lattes or Port-a-Potties.
I'm already looking forward to next year's Book Fest but I have a feeling I'll be back in Santa Rosa before then.