By Donna Levin
California novelist and author of California Street (Simon & Schuster)
Friday, October 22nd, 2010
San Francisco had the honor of hosting Bouchercon 2010. Or have I got the "honor" backwards?
First, for the apparently small percentage of people out there who aren't fans of the mystery genre, Bouchercon is an annual convention named for Anthony Boucher, the late author, editor and critic (after whom the prestigious Anthony Awards are also named).
Bouchercon is a gathering of fans, who then have the opportunity to meet at least 100 presenters on dozens of panels, to attend interviews with high-profile authors, to sit in on informal gatherings of writers and literary agents, to have books personally signed by favorite novelists and, just possibly, to imbibe alcohol.
The publishing world takes notice: many New York editors decided it was worth a few days in the City by the Bay to join us, even if they weren't themselves presenters.
This year's B-con brought together nearly 1400 pre-registered fans and a few hundred more walk-ins to the Hyatt Regency at the Embarcadero in San Francisco – the first time that Fog City has hosted the convention since 1985.
But Bouchercon differs from other "fan" conventions in that while *most* attendees at a Star Trek convention don't imagine themselves enjoying interplanetary travel anytime soon, a significant percentage of Boucherconnies are writers, many of them published themselves, while others are "pre-published." I don't have precise figures, but in fact every single attendee I spoke to fell into that category, except for one gentleman – who works for Amazon. So call it conference, convention or festival or four-day bash, it's a place to see and be seen.
San Francisco has long been associated with mystery fiction – in fact, some consider it to be the birthplace of noir, that hard-to-define but easy-to-recognize subgenre in which a wounded hero with a heart of tarnished gold meets a dangerous lady with no heart at all. The first author that will probably come to your mind is Dashiell Hammett while the first noir-hero will be Sam Spade. Raymond Chandler the fellow author sometimes described as Hammett's successor, wrote of him, "[Hammett took murder out of the Venetian vase and dropped it into the alley… [He] gave murder back to the kind of people who do it for a reason, not just to provide a corpse; and with means at hand, not with hand wrought dueling pistols, curare, and tropical fish." (Chandler's praise has often been paraphrased.)
A fictionalized Hammett makes an appearance in Locked Rooms, the latest in the popular Mary Russell series by Laurie R. King. King was Bouchercon's guest of honor and, as a San Franciscan (and third generation Californian) she brings us right to the center of the contemporary mystery scene here in the San Francisco Bay Area, so well-represented last weekend: Jacqueline Winspear, creator of the Maisie Dobbs series interviewed Eddie Muller on Friday, and on Saturday returned by popular demand to interview Lee Child.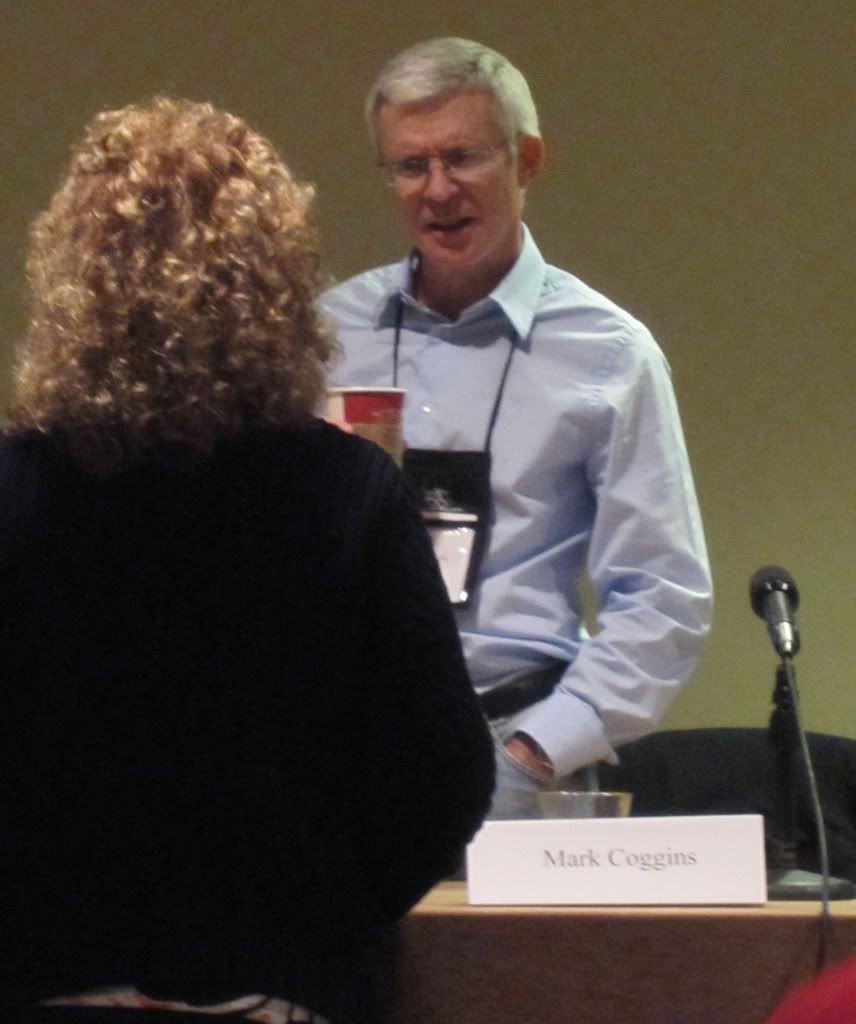 Our own Joel Fox (Lincoln's Hand) was there, as was Mark Coggins (pictured here), author of the August Riordan mysteries (most recently The Big Wake-Up) whose work is a modern take on many of the Hammett-Chandler traditions.
A mere sampling of other Bay Area writers (my apologies to those omitted) were Cara Black, David Corbett and Keith Raffel.
I was delighted to hear literary agent and Internet cult star Janet Reid who is as down-to-earth, hilarious and informative about the business in person as she is on her blog. 
Janet Reid among many out-of-towners to join our homegrown literary community, and we can be proud of the hospitality we offered them. At the last convention I attended (no names here) the hotel was in the heart of the Concrete Parking Lot District. Compare that to San Francisco's Embarcadero: a dozen international cuisines and two major shopping centers within easy walking distance, and – should you wish to venture further – a public transportation system surpassed, in my experience, only by New York City.
Such are the glories of San Francisco, in fact, that the convention offered both cable car and walking tours, all linked to the settings of novels or novelists, but let's just say it isn't hard to create an exciting tour in this town.
Departing attendees were charged up about Bouchercon 2011 and I'm sure it will be well worth attending – even in St. Louis.